Hello GamerZ, seeing as Prom1ses has discontinued his EBOOT Builder, I decided to update it and post it on here for anyone who may want to use it.
Anyway here it is: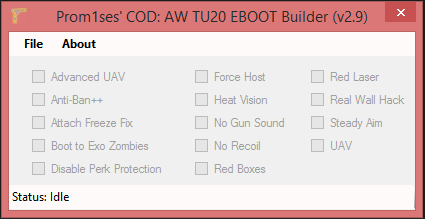 [HIDE]
http://www.mediafire.com/download/oj1jjibcckg410j/Prom1ses_AW_TU20_EBOOT_Builder_v2.9.rar
[/HIDE]
Antivirus scan for 9c1960aa514abe74b87892af20f9236aeba4e29ca9073c76d1bce22b2fd12bcb at 2015-10-20 19:30:40 UTC - VirusTotal
Credits:
Prom1ses for the program and Anti-Ban.
Eddie Mac, Mega Mister and Ratchet Booty for the Non-Host Offsets.
Note: I did not add antiban as there is none that works that I am aware of, so if you have an EBOOT with antiban then just decrypt it to an elf and load it in the app and add the mods you want.