[Sticky]

[Tutorial] E3 Flasher: Fast Swap Dual Guide For All OFW/CFW
*[UPDATED as of 11/13/2013]
Requirements:
1. Hackable/Downgradable PS3 that uses NOR flash chip [manufactured in October 07 - December 10]
2. E3 NOR Flasher Installed for Dual boot [Soldering required] Cut SBCE's A-B and solder both A and SBE to two points on E3 Clip cable.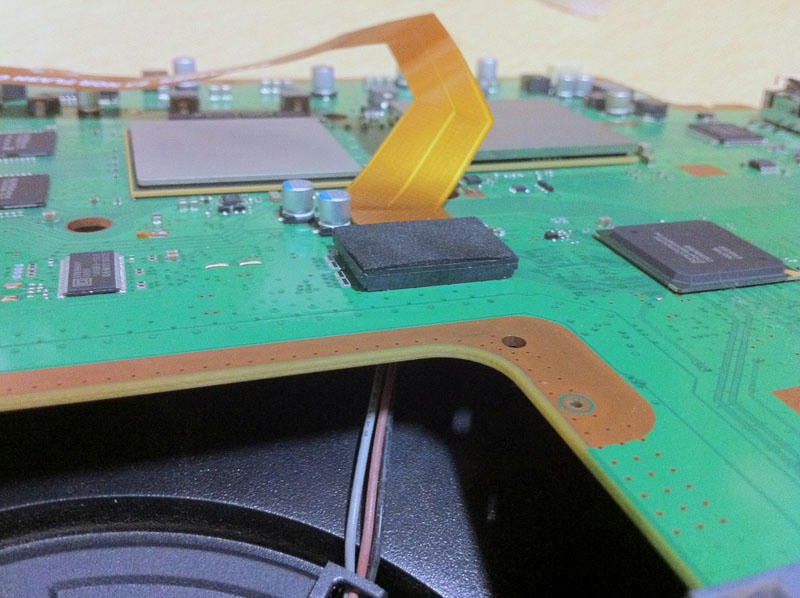 It must have good Connection with E3 Nor Clip
For those of you who damaged two solder points on E3 Nor Clip here's the solution
Instead here you can solder two points on back of E3 Flasher
3. E3 Flasher's firmware update [10-28 , 2011] *Highly recommended*

E3 Flasher's firmware update
for Dualboot that's released on [01-05 2012] is optional but not required.
I don't use that at all since I've used my E3 flasher for other consoles
many times and it won't allow me to use it for multiple consoles.
But it's convenient to use it since it's making dumps for three times automatically [bkpps31,32,33]
4. Two Hard drives
which include one for OFW and another for CFW. [It doesn't matter to use either 2.5" or 3.5" both work just fine.]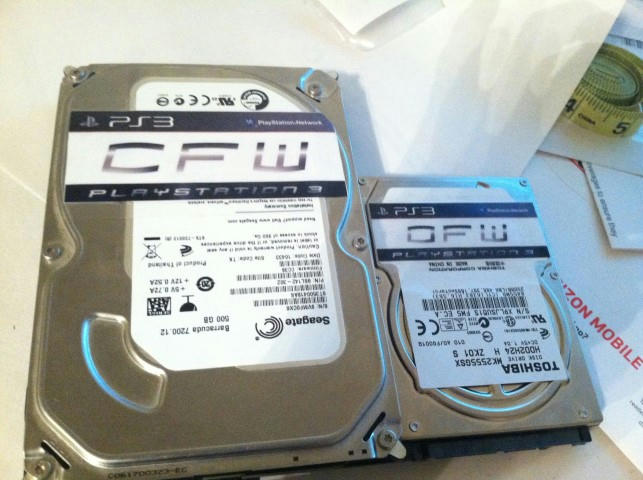 5. Custom Firmware files that [CoreOS Hash check disabled]
6. *Primary Custom Firmware Installation*
7. Latest Official Firmware Files [if you install
older version there's no point of doing this... lol]
8. A little bit of knowledge and experience of custom firmware installation
.
9. QA Flagging is optional not required but it may be needed due to custom firmware installation.
Let me explain what firmware you could choose to install for dual boot and why.
I mentioned that you need the CFW that has CoreOS Hash check disabled. the reason why you need this is
because the final setup will take place on PS3 Nor flashchip with OFW installation, and once you install OFW,
your syscon will recognize your firmware as 4.50 [which is current latest official firmware build]
but if you previously installed any CFW that CoreOS hash check disabled on E3 Nor flash chip it won't give you any trouble
because on E3 Nor flash, it will skip the hash check and just boot fine but you need to follow this tutorial to the end
because although it skips checking your CFW won't boot without this method so please read through although you understand everything that I mentioned so far.
Dual boot-able recommended custom firmware
Rebug's 3.55.4 REX / 4.21.2 REX / 4.30.2 REX / 4.41.3 REX/LITE / 4.46.1 REX/LITE
Rogero's 3.55 v3.7a / 4.21 v2.00 / 4.30 v2.05 / 4.40 1.03 / 4.41 1.00 / 4.46 1.01 / 4.50 1.01
Habib's 4.46 1.00-2.05 / 4.50 v1.03
Cobra 7.00 [Rogero 4.46 1.00 + Cobra feature]

as a reminder Rogero's 4.21 v2.00 doesn't have Install Package Files integrated so I wouldn't recommend to use it unless you pre-install IPF "pkg" on that CFW hard drive before you update to Rogero's 4.21 v2.00


Explanation of switches on TF Cover board.
OB FLASH = On board Flash which mean "Spansion" Nor chip on E3 Flasher.
PS3 FLASH = Nor chip on PS3 motherboard
1 :
PS3 MODE = Normal PS3 Boot mode
FLASH FUN = Halt PS3 Boot mode [mostly used for unbrick]
2 :
CFW : PS3 Boots from E3 NOR
OFW : PS3 Boots from PS3 NOR
3rd , 4th and 5th switches determent where you flash your nor dump from and to so these allow your flashing location
for ex) SD card to PS3 Nor or E3 Nor, PS3 Nor to E3 Nor and vice versa, etc.
3 : Choice of either back up or Flashing
PROG
BACKUP
4 : Choice of location of your nor flash dump
OB FLASH : E3 Nor Chip
MicroSD [bkpps3.bin or bkpe3.bin files]
5 : Choice of location where you want to flash to
PS3 Nor Flash
OB Flash
6 : Always "LOCK"

Dual boot Installation for first time dual boot
First of all you need to install the custom firmware of your choice "TWICE" it doesn't matter which HDD you use, but I would suggest using
HDD that you want to use for your CFW that would work
with E3 NOR.
the reason why you do this is because you want your console to be de-hashed by installing the same firmware version "TWICE"
so that way your NOR flash would have the same firmware CoreOS version
on both ROS0/ROS1.
This is "VERY" Important and whole point of this dual boot thing.
So once you install the same CFW twice on PS3 Nor with CFW HDD. you're good to go




With this switch setting, your PS3 boots fine go ahead and
back up your NOR flash dump by




SW:pS3 MODE/OFW/BACKUP/MICROSD/OBFLASH/LOCK Switch : 001000
this switch, after it's finished your microSD card will have bkpps3.bin file.
after the validation of this dump, rename your bkpps3.bin file to bkpe3.bin
In order to flash the dump file to OB Flash. you can also directly copy your
PS3 Nor Flash directly to the E3 Nor Flash, but I'll explain later.



---SW:pS3 MODE/OFW/PROG/MICROSD/OBFLASH---Switch : 000010
With this switch setting, you will be able to flash your E3 NOR Flash from
the file that you just renamed to "bkpe3.bin" that's in the microSD Card.
After it's finished, turn off your PS3 and change the switch setting like this




See if it still boots fine with this switch setting, I think it should
and then turn off your ps3 and change the hdd drive [OFW HDD] that you want to
install your OFW and put all the switch down just like you boot your PS3 in normal mode.




as soon as you turn on your PS3, it will ask you to "Plug your controller and press home button"
and install your OFW 4.50.
I'd recommend install it "Twice" again here, because your ROS1 will still have your previous CFW's core os files on PS3 Nor Flash.
After the installation of OFW twice, your PS3 will be able to boot on both PS3 Nor and E3 Nor with two HDDs.


How to update your CFW after the Dual boot installation

Whenever you want to update your CFW when you already have Dual boot installation,
you will need to re-setup your dual boot due to the CFW installation will mess up your syscon, and
for that reason your OFW won't boot after the CFW update.
In this case you can fix this with two methods.
The most simple way to update your CFW after the dual boot installation
You can simply update your CFW twice on E3 nor and then flash your PS3 NOR directly from E3 NOR.
You can either do FLASH FUN mode or PS3 Mode it doesn't really matter.
All that matter is that the 3rd switches to 6 switches.
1st/2nd switches and HDDs doesn't really matter since it's only flashing.
however you can flash your PS3 Nor when your CFW booted with E3 Nor with this switch setting.
---SW:pS3 MODE/CFW/PROG/OBFLASH/PS3FLASH/LOCK--- Switch : 010100
After flashing your PS3 NOR with this switch setting, both of your E3 NOR and PS3 NOR will have the same NOR flash, and CoreOS check is disabled
Turn off your console after the flashing and then put all the switches down turn back on.
Your PS3 NOR [OFW] will boot nonetheless and you can update your OFW twice either from XMB or Recovery Mode.
If the both FW version matches from each side of NORs, your OFW HDD will boot to XMB and you can update your OFW from XMB.
If you had lower CFW prior to the OFW [like OFW 4.50 / CFW 4.46] your OFW HDD won't boot with the 4.46 NOR Flash copied from E3 NOR, because CoreOS version doesn't match,
however OFW HDD on PS3 NOR will still boot to recovery mode nonetheless, in this case you can just go ahead and update your OFW from there.




Examples of Dual boot installation
Example of Dual boot
OFW 4.45/ CFW 4.30 [Rebug's 4.30.2 REX]
this is the video I made when there was a new OFW 4.45 update came out although it caused a brick issue,
at this time I was able to do OFW 4.45 and REBUG 4.30.2 Rex with CEX/DEX LV2 Kernal Swap.
*An example of combination of 3K3Y-S / E3 Flasher's PS3 DUAL BOOT*
3K3Y-S + OFW 4.46 / CFW 4.46 [Rebug 4.46 REX]
*An example of combination of Cobra ODE / E3 Flashers' PS3 DUAL BOOT*
Troubleshooting

Dual boot using E3 NOR flasher requires 100% connection between E3 NOR / PS3 NOR.
A lot of people have experienced that E3 NOR won't boot after the OFW installation, or it did work for the first time but it didn't boot anymore after the certain days passed.
For people who are having hard time fixing the E3 NOR Clip.
Get a 2mm thick mounting tape I don't recommend using coins and put 5 layers of Electrical tape to give more pressure by
having less gap between the metal guide E3 nor clip when you re-assemble everything.




if the problem persists you have no choice either you replace the E3 NOR clip or PS3 nor chip or entire console or what ever it takes to
have good connection and full availability for Dual boot installation.
the best solution would be "E3 Linker" just like what @baileyscream said. But it requires good soldering skill.
I've done that before but I didn't really think about how to organize all that 50 wires properly in order to re-assemble everything.
this is a good example of E3 Linker installation for dual boot



and here's the bad example of E3 Linker installation for dual boot [but it works for downgrading]




I dont take any credit for this tutorial, credit goes to Joonie
Posted : August 18, 2014 4:16 am
Posted : August 22, 2014 6:00 am
Posted : August 22, 2014 10:20 am
you should add what versions this is compat with, cech 30 and above cannot be downgraded i don't think
|
Posted : August 22, 2014 11:14 am
Posted : August 30, 2014 5:10 am
Not sure if you're familiar with an RGH Dual NAND console, But from what I read above, You can boot into either OFW and CFW correct? So does this mean, An E3 Flasher pretty much converts a PS3 into a Dual Nand console?
Posted : September 1, 2014 7:51 pm