Saints Row The Third
Alright, so this one took a LONG time to get built, but I am very pleased with it. It works online as well as offline! Still searching for more stuff to add, so as always, keep your eyes peeled!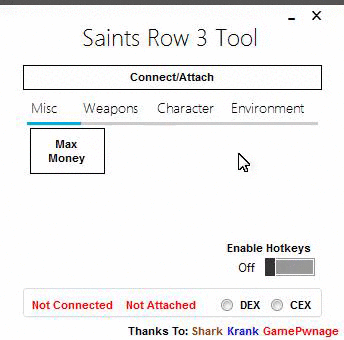 Saints Row The Third
[hide]
[RELEASE 2.3.0] <---DOWNLOAD
[/hide]
Big thanks to GamePwnzer for finding 90% of the offsets haha Without him this tool would be much smaller and less exciting
Huge thanks to Shark, he helped me immensely with C# coding! So big thanks again to him!
Posted : 21/03/2015 9:13 am
THANKs man never played this game
The game is Great fun 😀 definitely recomend it 🙂
Posted : 10/09/2015 3:26 pm
what a surprise, the link is dead! almost all links expired on this resource. Guys, are u serious? Why don't you try another way to store and share files?!
The link has been fixed. Although I disagree with the manner in which the dead link was brought to my attention, I do appreciate you letting me know. For future reference we have a report system here on RivalGamer which I personally check every single day.
Posted : 16/10/2018 5:00 pm
I'm sorry for my manner, the thing is I thought my message wouldn't even be noticed) I've written a dozen of messages in the topics of different games. And believe me, you're the one, who payed any attention, thank you very much for your help)
Totally understand..ibwqs able to fix this one since it was my tool. We have been working to get the pkg cheats all fixed but it's taken a fair bit of effort more than anticipated. I promise we are working on it tho. Sorry for any inconvenience and I appreciate your support and understanding 🙂 Happy Modding!!!
Posted : 17/10/2018 6:19 am
i've got one small question)
i can simply mod any .elf file with hex editor, changing original game pattern with current.
for example: B 7C0048507C840050 7C004850492032D2
the thing is when I add this (0 00796508 39440000) in hex editor, see no effects at all.
but when I use ccapi, everything is fine (it works).
what should I do?
Posted : 17/10/2018 8:34 am